What is "Anboli"?
" Anboli" is a private channel run by Rev. Fr. A. Thomas, Parish Priest, Our Lady of Health Church, Puducherry.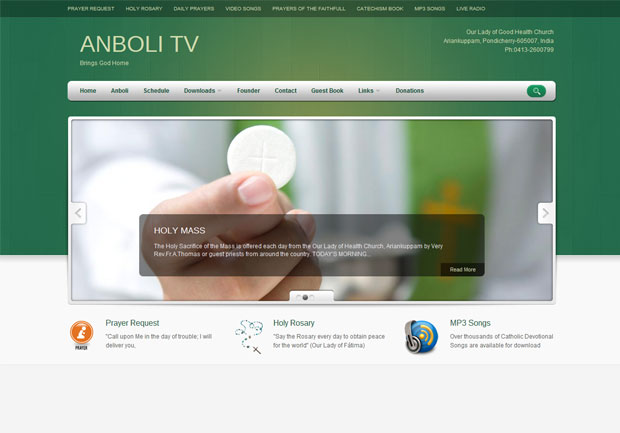 Whether it is private channel?
Yes, it is a private channel.
Whether, "Anboli" is a catholic Media channel?
Yes, it is a catholic Media (Private) channel which telecasts all Catholic programmes, Announcements of Marriage, Birthdays and Death anniversary of the church members of the parish and also live telecast of Holy Mass proclaiming the Word of God.
Whether it is an international channel?
No. It is only a local channel telecasted all over Puducherry. Planning to take the channel internationally through hi speed internet.
How did this Project Begin?
The idea of starting the channel was conceived by Rev. Fr. Thomas, Parish Priest, and Our Lady of Health Church due to the demand from Catholic community.
What does "Anboli channel" imply?
Anboli channel implies "The way, The Truth and the Life". During crisis, Trust in Lord Jesus Christ and move forward.
Who owns "Anboli Channel"?
"Anboli Channel" is solely owned by "Anboli Trust" and managed by Rev Fr. A. Thomas. It is an independent organization based in Puducherry, India. It has trustees but does not have shareholders or owners.
How is Anboli Channel financed?
There are no shares, no invested funds and "Anboli "receives no advertising or syndication income.
Anboli's mode of operation continues to this day all over Puducherry through Media.
Does Anboli charge for its services?
Yes, it is chargeable service.
How is Anboli staffed?
Anboli has nearly 5 employees. It is headed by Fr. A. Thomas.
Does Anboli have an official status in the church?
No,It has no official status in the church. Anboli is an independent operation.
What is "Anboli's" relationship with the Bishop and Priest?
Anboli has been started by the Puducherry Archbishop and the support of the people of Puducherry, in an overwhelming way.
What are the main facts about Anboli's Media Network?
Anboli is programming 24 hours a day. All our staff members are putting more efforts for our media task. This type of channel should reach all over Puducherry and also various districts through internet all over the world.
How many viewers and listeners does Anboli have?
We don't know how many viewers tune into Anboli. The only way we can answer this is by starting in how many areas Anboli is down linked by cable TV operators, Broad cast television stations and DBS, DTH.
Our cable TV affiliates inform us of their subscriber numbers, so we know the numbers of households, where" Anboli" reaches.
What are the various types of programming that Anboli provides?
Anboli provides a rich variety of programming intended for each generation in a catholic family.
Anboli programming philosophy is in accordance with the teaching of the Magisterial, Principal categories include:-
Daily Mass and Devotions.
Church / Papal Events: extensive live coverage of Bishop Visit, celebrations and major church events.
Documentaries, Drama, concerts.
Children and teen Programs.
Anboli doesn't show programmers about alleged apparitions that are not approved by the church, through the authority of the Puducherry Bishop.
Who produces programs offered on Anboli?
Well, we produce programs of recitation of rosary,(four mysteries) daily programmers of different tastes ,evaluation of magazines books, periodicals etc: Bible and other literature, sharing the origin and the normal function of the pious association, karnatic music and Indian catholic liturgy, catholic news the Documentaries and playback plays and films, musical concerts that are acquired in the CD's.
What has been the experience of Anboli's effect on viewers of other Christian denominations and non-Christian faiths?
The correspondence, which Anboli receives from members of traditional mainstream Protestant churches, is most gratifying
These Viewers appreciate that, while Anboli is intended for catholic families, it offers programmes, which are profound in both its solid theology and cultural content and wide in its variety.
Letters and e-mails received from viewers of non-Christian faiths show they are satisfied with the way in which they are satisfied with the way in which Anboli portrays the catholic faith, which helps them understand the tents of the teachings of the catholic church.
In a nutshell "ANBOLI TV" brings JESUS into Homes
Contact:
Rev.Fr.A.Thomas
Our Lady of Good Health Church,
Ariankuppam,
Pondicherry – 605007
India
Phone: 0413 – 2600799
Related Link: Arulosai | Anboli (youtube)
Source / Courtesy: www.anbolitv.org