The Vicar of Christ is preaching the Gospel, in word and deed
He is everywhere. The Pope, that is. On the cover of magazines. As Person of the Year. As the subject of street corner discussions. As longform magazine stories. On meme boards. You get the idea.
The Pope's mystique started on the night of his election, when he took a bus with the other cardinals, refusing to travel in the papal limousine. His plain white robes stood in stark contrast to the opulent trappings favoured by his predecessor, Pope Benedict XVI. In his first media conference, he said that he wanted a "poor church, for the poor."
When Time magazine pronounced Francis as the person of the year, Howard Chua-Eoan and Elizabeth Dias wrote, "But what makes this Pope so important is the speed with which he has captured the imaginations of millions who had given up on hoping for the church at all… In a matter of months, Francis has elevated the healing mission of the church – the church as servant and comforter of hurting people in an often harsh world – above the doctrinal police work so important to his recent predecessors. John Paul II and Benedict XVI were professors of theology. Francis is a former janitor, nightclub bouncer, chemical technician and literature teacher." Ron Fournier writing at The Atlantic looked to the Pope as a way for the American Republican Party to understand the virtues of "openness, populism, humility, and courage." His pro-poor message was not a change in direction for the church, away from cultural issues like gay marriage, abortion or contraception, but a return to the core values of Christianity, argue several observers. And at a time when atheism has gained ground rapidly in the world, he has made Catholic Christianity cool again, writes Jeremiah Jacques at TheTrumpet.com.
He's now the most discussed person on the Internet. Reddit loves him. Francis memes have exploded since his papacy began. And his name is the most popular in Argentina for baby boys.
For more: time.com, thetrumpet.com, theatlantic.com WHEN THE POPE ROCKED THE WORLD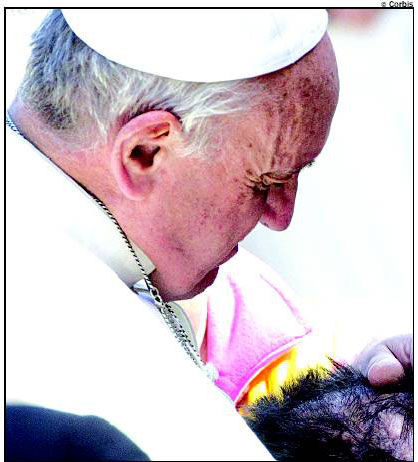 SELL WHAT YOU OWN, GIVE THE MONEY TO THE POOR
The pope condemns trickle-down economics and warns against the "idolatry of money"
WHAT YOU DO TO THE LEAST OF MY BRETHREN
The pope washes the feet of prisoners, including women and Muslims
LET HE WHO IS WITHOUT SIN CAST THE FIRST STONE
Francis stuns the world when he tells a reporter "Who am I to judge them?" when asked about gays. Gay rights magazine The Advocate named Francis Person of the Year
APOSTLE OF CHANGE: Leading by example, words and actions
Source: Times of India | December 22, 2013   Photo Courtesy: Corbis