Chennai: It's easy to miss the message for the sales pitch; Christmas has after all, becomeoneof the market'ssweet seasons. But rising determinedly above store calls to self-indulgence and pampering one's family with inessentials, can be heard a quiet appeal to reach out also to one's community. It's a message sent out by churches and organisations in Chennai, intent on returning to the originative values of the festival like charity and kindness.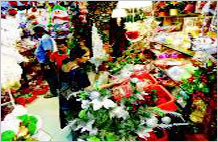 At St Theresa's Church, Nungambakkam,for example, parish priest Fr Lawrence Raj hasbeen entreating parishioners to contribute to the annual Christmas hamper effort they've been running for five years. Each hamper – containing a live hen, rice, lentils and other comestibles–sells at 500 and will be offered to a impoverished family of any faith. "The Society of St Vincent de Paulidentifies around300families and we supply them the hampers on December 24 morning so they can prepare a Christmas meal the next day," saysFr Lawrence.
The church also collects packets of food cooked by parishioners on Christmas morning – a portion of eachfamily's own feast – and the church youth fan out, delivering the food to the homeless. "Each year wecollectbetween 1,000to 1,500 packets," Fr Lawrence says, pointing outthatthiswill help people remember that Christmas is the feast of sharing, notjustconsuming.
St Mathias Church at AshokNagar hashitupon an innovative campaign, 'Be a Star this Christmas'. The parish Christmas tree will be mounted with dozens of stars, each inscribed with particulars of items neededby the poor ofthe parish, from food to stationery or clothes.People areinvitedto pick a star and donate the itemslistedon it. "Stars arethe need of the season," says Fr Anthony Das, parish priest of this Capuchin order, calling to mindthe Star of Bethlehem.
Social outreach has long been central to the Christmas programme, in both religious and secular circles with parties and gift-giving organised in socialinstitutions.However, efforts that rally a community or neighbourhood to partake in collective outreach have yet to pick up. While most of these initiatives are taken up by churches,some are alsofielded by community organisations like the newspaper 'Mylapore Times'.
Aboutfive years ago,editor Vincent D'Souza established a tradition which, by nature of its practice, became a vehicle for aid. He brought Santa Claus back to Mylapore. "We wanted to rekindle the simple joys of gifting; despite the age we're in, people still believe in Santa Claus," says D'Souza. This is how it plays out: on December 21 and 22, 'Mylapore Times' takes Santa Claus aroundthe neighbourhood, accompanied by three young members from St Bede's Band who strike up a medley of festive tunes. The entourage drops off gifts (that had been deposited at the 'Mylapore Times' office the previous week) to children and adults. They venture into bylanes and up anddown buildingstodeliver the goods,someof which are marked out for residents of old age homes and other disenfranchised quarters of society, all anonymously sponsored. "We used to make our rounds from 5.30pm to 10pm in an open-top car, but then drunks would invariably want to join the party," says D'Souza, adding that they've switched to safer modes of transport. As the editor emphasises, when youwantto pulloff something nice, youhavetoworkfor it.
Source: Times of india | Joeanna Rebello Fernandes TNN | Dec 22, 2013