Welcome to St Mary's Cathedral
In the city of Tiruchirappalli, Tamil Nadu, India, St.Mary's Cathedral, popularly known as " Mother of Good Health" in vernacular "Arogya Matha", occupies a unique place not only it is one of the oldest Churches in Tamil Nadu but had been the "Mother Church" of five dioceses bifurcated out of its jurisdiction during these 170 years of its existence.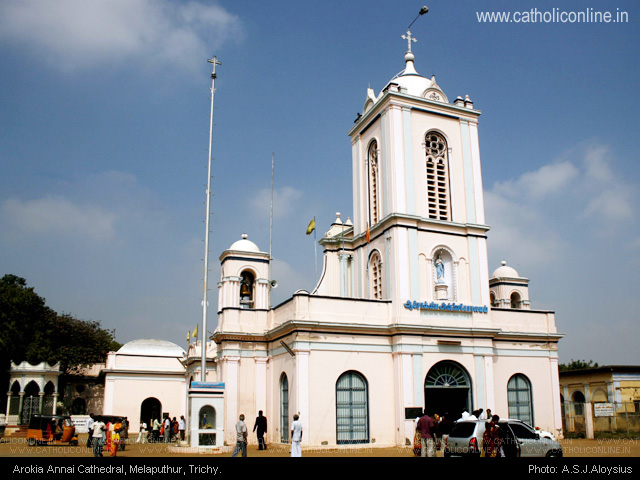 The Church itself was built by a Jesuit missionary Fr.Louis Carnier. It was on the 29th June 1841, on the occasion of the feast of the apostles St.Peter and Paul, with the morning sun rising in the east in all its glowing splendor, Bishop Bernard Clement of Pondicherry in a solemn ceremony dedicated the Church to Our Lady. The paintings in the roof depicting the martyrdom of holy men and women of were done by Br. De' Noircourt between the years1893 to 1898.

Having served for more than 170 years, now it is too weak and developed cracks both vertically and horizontally over the roof. The inner floor and the outer ground are almost leveled leaving the rain water to rush in. Hence, the diocese has decided to built a New Cathedral with an estimate Rs 9 crores (90 million) and the work has begun on the 15th August 2011. Kindly pray and donate generously.
Our Parish:
Once, the Cathedral parish had in its fold vast territory for its pastoral activities. It had more than 20,000 families. The parishes – Crawford, Edamalaipatty Pudur, Subramaniyapuram, Sembattu, Gundur, K.K. Nagar, Ariport, Kallukukuzhi, Karunamdapam and Puthur were carved out of Cathedral parish for Pastoral reasons and concerns. At present the parish has 27 substations. The total Catholic families are 2,935, and the population nearly 12,000, and the non-catholic population more than 250,000. 80% of the Catholics in the parish belong to Dalit community, who are economically poor and socially backward. They work as painters, carpenters and in the constructions as masons and helpers for daily wage around the market places. The Parish Pastoral Council consists of 60 members among them 13 are executives and 5 are officials. Parish Financial Committee, consisting of 5 members, manages the financial transaction of the Parish.
Mass Schedule:
Liturgical Service Schedule
Holy Mass in the Parish: Sundays: 5.00 a.m, 6.30 a.m, 8.30 a.m and 6.00 p.m
Week days: 6.00 a.m and 6.00 p.m
Tuesdays – Charismatic Healing Service from 6.00 to 8.30 p.m
Church is kept open from 5.00 a.m to 12.00 noon and 4.00 to 8.00 p.m every day for personal visitation.
Contact:
Parish Priest
St Mary's Cathedral, 12 A Convent Road, Melapudur,
Trichy – 620 001. Tamil Nadu India.
Phone: (0431)2411511,
Website: http://www.maryscathedraltrichy.org/