The History of Our Lady of Chindhaaththirai (Happy Voyage) Shrine, (Patron of Travellers), 
Erukkur- Tanjore Diocese
The Virgin Mary, our Heavenly Mother of God, has appeared is various parts of the world. By intercession, innumerable miracles are taking place in these places and people irrespective of caste, creed and religion throng to these places to receive the grace of God
In our Indian soil, she has chosen many places as her holy dwelling place. One among them is the Shrine of Our Lady of Happy Voyage (Chindhaaththirai Matha), Erukkur.
Our Lady of Happy Voyage Shrine, Erukkur 6KM away from Sirkali is on the right side of the National Highway 45A (Eastern Coast Road) leading from Sirkali to Chidambaram.
Erukkur is one of the Panchayats in Kollidam Union, Sirkali Taluk of Nagapattinam District in Tamil Nadu State, India.
The Parish Church of Erukkur houses the beautiful statue of Our Lady of Happy Voyage which has a remarkable history to remember.
In 1534,A.D The Portuguese merchants erected warehouses and chapels in and around the villages or islands of the Eastern Coast of Bay of Bengal Sea namely Pulicate alias Anantharayanpattinam, Satras, Kunimedu, Kalapet, Pondicherry, Devanampattinam, Cuddalore, Porto-Nova, Coleroon, Thirumullaivasal, Tranquebar, Thirumalaipattinam, Nagore, and Nagapattinam.
Around 1550, AD there arose a warehouse and chapel at Kottaimedu which was then called Coleroon, an island farmed at the juncture of river Kollidam, a distributary's of Cauvery and Bay of Bengal.
Kollidam River was called by Portuguese as Coleroon River. The river Cauvery from Metturdam traverses a distance of 115 miles before reaching upper anicut in Thiruparaithurai Village limit in Trichy District. All along this length it irrigates on both sides.
At upper anicut the river Cauvery branches off into two arms. On the left side, it is called river Cauvery. A barrage has been constructed on the Coleroon in the year 1836 from this point the river Coleroon serves as a flood carrier and runs almost parallel to the Cauvery arm. Coleroon River travels and reaches Bay of Bengal at Palaiyar.
Coleroon Island is in the Coleroon River itself. Now also we reach by boat and see the damaged houses which were built by damaged warehouse's bricks.
At that time Europeans, Eurasians and the people from Goa lived at Coleroon Island. The Franciscan missionaries of Portuguese looked after their spiritual needs and missionary activities of the region. After 1606 A.D diocesan priests of Mylapore Diocese and religious visited the Christians living in this place and ministered to them.
As settlement of Catholics grew up around this island the "Miraculous state of Our Lady of Nazareth of Travelers" was installed. This is the replica of the statue of Our Lady, of preserved at the Basilica of Holy Family in Nazareth. She was called Our Lady of Voyage, in Tamil "Chindhaaththirai Matha".
In the oldest Tamil dictionary "Chindhaaththirai" means Chindhaa + Yathirai, Chindda signifies not Failing, Yathirai Signifies Voyage or Journey. Therefore it expresses victory or safe Voyage and also it means safety, welfare, and prosperity.
During the time of kings, whenever the king went for battle, the poets and Ministers under him wished him as "Chindhaaththirai". Therefore Portuguese called Our Lady of Travelers as Chindhaaththirai Matha.
This is the first Tamil Name given to the Mother of Jesus Christ.
In 1659 A.D., where the Dutch confiscated Coleroon Island along with its warehouse and chapel, the Portuguese confided the miraculous statue to the new converts of the area who in turn handed over it to the Christians of Erukkur.
The Christians of Erukkur were converted to Catholicism due to the missionary activities of St. Francs Xavier in 1545 A.D., of Sirukadampur (Traditional saying) and also ancestors of Erukkur Christians were converted by Franciscan missionary of Portuguese, St.Farancs Xavier, St.John de Britto, Fr.Freire, Fr.Laynez and after the martyrdom of saint John de Britto. The Christians who lived at Maravanadu, Madurai and Tutucorin areas migrated and in and around Erukkur, where the Christians lived without any persecution in 18th and 19th centuries.
For the past 350 years, the miraculous statue that is venerated under the title of "Chindhaaththirai Matha (Our Lady of Happy Voyage) is the Parochial Church of Erukkur this statue is found in the church till today.
From 1699 A.D up to 1744 A.D Erukkur was a mission centre under the carnatic mission.
In 1850 A.D the apostolic vicar of Pondicherry Mission, Mgr. Bonnard, lifted an Erukkur as parish. Rev.Fr.Lazar Appavoo was the first parish priest of Erukkur. In 1899 A.D Erukkur Parish came under, the diocese of Kumbakonam, then in 1929 A.D it was reattached with Arch diocese of Mylapore and when Diocese of Tanjore was created in 1953 A.D Erukkur came under it.
Our Lady Of Chindhaaththirai also known as in the name of  Our Lady Of Happy Voyage, Star of the Sea, Our Lady of Bon Voyage, Travellers of Nazareth, Stella Maris, Apostleship of the Sea.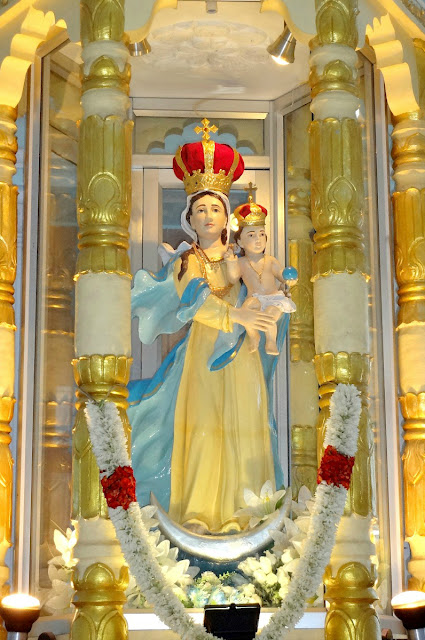 Mass Timings:
Monday to Thursday : 06:30 AM – Mass
Friday : 06:30 PM – Mass
Saturday : 06:30 PM – Rosary, Novena and Mass
Sunday : 08:30 AM -Mass
First Saturday : 11:00 AM – Novena, Mass & Benediction,  06:30 PM – Novena, Mass
Last Friday : 06:00 PM – Way of the of the Cross, Special preach & Mass
Special Novena:
(8th day of Month)   : 05:30 PM – Healing Adoration & Benediction,
: 06:30 PM – Small Car Procession of Our Lady Of Chindhaathtirairai,
: 07:15 PM – Mass & Blessing of the Sick
Annual Feast:
April – 30 : Flag Hoisting  (Starting Of Annual Feast)
May 1st – May 6th   : Novena Days
: 06:30 PM – Eucharistic Adoration
: 06:30 PM – Car Procession
: 07:15 PM – Mass
May 7th : Corpus Christi (Festival of Communion)
May 8th  : 08:30 Grand Mass
: 11:00 PM (Full Night) Grand Car Procession of Our Lady Of Chindhaathtirairai
May 9th  : 05:30 AM – Thanks Giving Mass and End of Annual Feast

Our Lady Of Chind