Our Mission and Vision of Regional Commission For Evangelization…To execute the directives given in the Vision Statement of the Church in Tamilnadu based on the Magisterium of the Church and the Mission Commandment of Jesus Christ, our Lord with the view of instilling zeal for evangelization in the Church.
In order to materialize the Vision, TNBC Commission for Evangelization aims at the animation of Catholics (Priests, Religious and Laity) into New Evangelization which needs the formation of resource persons along with the co-ordination of evangelizers and publication of necessary materials.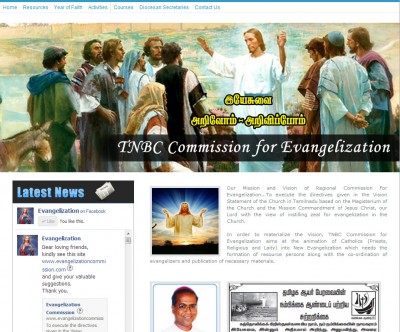 TNBC COMMISSION FOR EVANGELIZATION,
Bishop's House,
2 Court Road,
Maravenery,
Salem-7.
For more information please visit: www.evangelizationcommission.com