Chennai Christian Shortfilm Festival 2012 – CCSFF 2012
10th November 2012 | Don Bosco Auditorium | Egmore | Chennai
Send your Music Videos (below 5mins.) & Short Films (Below 20 Mins.)
Entries Open – till 20th Oct 2012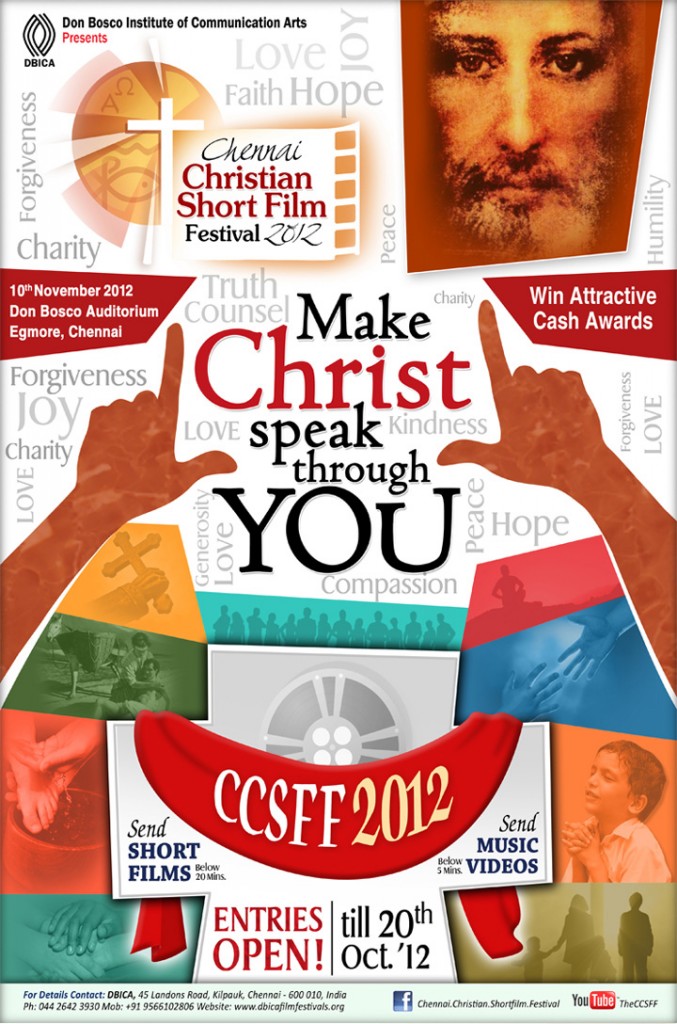 Dear Respected Father / Brother,
Greetings to you from the organizers of the Chennai Christian Short Film Festival.
We are glad to inform you that preparations are on for the second edition of the (CCSFF) Chennai Christian Short Film Festival scheduled for the 10th November 2012 at Egmore Don Bosco Auditorium, Chennai. Please do participate in this festival, by way of submitting your short films and music videos. Attractive cash awards are awaiting the winners. It will be a very good occasion to bring into synergy all creative Christian energy.
For more details about the festival, please log on to www.dbicafilmfestivals.org. The last date for submitting the entries for CCSFF will be 20th OCTOBER 2012.
Please do pray for the success of this festival, that this may become a worthy vehicle of proclaiming the Good News and building His kingdom on this earth. Thank you very much.
With warm regards,
Bro. Petersdb
Co-ordinator
Entries Open for Chennai Christian Shortfilm Festival 2012 – CCSFF 2012. Make Christ Speak Through You… Share the uniqueness of CCSFF among your friends and networks… CHRIST DESERVES MORE For More Information
Log on to www.dbicafilmfestivals.org
email: ccsffdbica@gmail.com
Contact: 9566102806
Facebook:
https://www.facebook.com/Chennai.Christian.Shortfilm.Festival
Youtube: 
http://www.youtube.com/user/TheCCSFF
http://youtu.be/ag765KC6UcM (English version)
http://youtu.be/Wso2xS6_iLU (Tamil version)