St. Anthony's shrine is the one of the shrines which is very famous in India. St. Antony's shrine is situated at Marambady. Marambady is a big village, which has its patron St.Anthony the Hermit. It is three hundred years old shrine. Every year 16,17 & 18th of January the feast day of St. Anthony the Hermit is celebrated grandly. About 2 lakhs people pay a visit only on those three days. It is the biggest shrine dedicated to St. Antony in India and abroad as well. People from other countries also visit this shirne and they experience miracles.
The uniqueness of the famous shirne is, people of other religions also come regularly. Even people belonging to other denominations also visit the shirne for intercession. Every one who belives in the intercession of St. Anthony the Hermit they are marvelously healed and blessed by the Holy Trinity.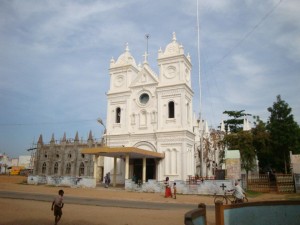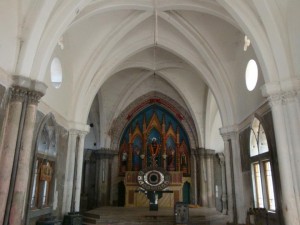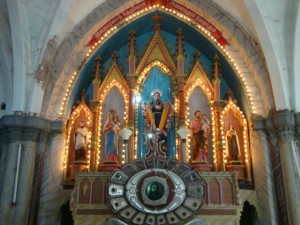 St.Anthony the Hermit:
Anthony was born at Coma, near Heracleopolis Magna in Fayum, about the middle of the third century AD. He was the son of well-to-do parents. He had the desire to imitate the life of the Apostles and the early Christians, and one day, on hearing in the church the Gospel words, "If thou will be perfect, go and sell all thou hast" , he received them as spoken to himself, disposed of all his property and goods and devoted himself exclusively religious exercises. He began his career by practicing the ascetical life. He used to visit the various ascetics, study their lives, and try to learn from each of them the virtue in which he seemed to excel. Then he took up his abode in one of the tombs, near his native village, and there it was that the Life records those strange conflicts with demons in the shape of wild beats, who inflicted blows upon him, and sometimes left him nearly dead. After fifteen years of this life, at the age of thirty-five, Anthony determined to withdraw from the habitations of men and retire in absolute solitude. He crossed the Nile, and on a mountain near the east bank, then called Pispir, now Derel Memum, he found an old fort into which he shut himself, and lived there for twenty years without seeing the face of man, food being thrown to him over the wall. He was at times visited by pilgrims, whom he refused to see; but gradually a number of disciples increased and established themselves in caves and in huts around the mountain, Thus a colony of ascetics was formed. Who begged Anthony to come forth and be their guide in the spiritual life. At length, about the year 305, he yielded to their demand an emerged from his retreat, and, to the surprise of all, he had appeared to be as when had gone in, not emaciated, but vigorous in body and mind.
For five or six years he devoted himself to the instruction and organization of the great body of monks that had grown up around him; but when he once again withdrew into the inner desert that lay between the Nile and the Red sea. Here he spent the last forth-five years of his life in a seclusion. He came forth from the fort at Pispir, to strengthen the Christians martyrs in the persecution of 311 and once at the close of his life(c.350), to preach against the Arians. The history says that he died at the age of a hundred and five. At his own request his grave was kept secret by the two disciples who buried him, lest his body should become an object of reverence.
This famous saint has been at Marambady for 300 years. the statue of St. Anthony the Hermit was brought by merchants before some three hundred years. Now St. Anthony is doing miracles by his intercession.
Miracles even today.. possible ? !..
Novena is conducted every Tuesday. Number of Miracles are taking place. The incurable diseases are cured. The dumb speak. The blind see. The stolen things are recovered through his intercession. The possessed are healed as soon as, they see the statue of St.Antony. People who have been in severe economic problem, do witness how they have been helped through the intercession of the Saint.
Parish
It is one of the ancient parishes. People are religious minded and prayerful. All of them are very much fond of their patron. This village has 100% catholic population. 105 persons have responded to the call of the God almighty. There are 47 priests 58 nuns and about 32 seminarians and 20 aspirants for women congregation. This shirne is really proud to have a Bishop. His name is Most Rev.P. Antony and we cannot forget one of our former parish priests had become the Bishop of the diocese of Kottor. He was known as Bishop Aggni Samy .
Mass Time :
Every day at 5.00 A.M
Special Novena on Tuesday 11.A.M & 7.30 P.M
Sunday Mass
First Mass 4.45.A.M
Second Mass 8.30.A.M
Pious Associations :
1. Youth Associations.
2. Vincent de-Paul Associations.
3. Margin groups.
4. People Sacred Heard
5. BCC's
School :
1. St.Aloycious Primary School.
2. St.Antony's Primary School.
3. Little flower Primary School.
Contact Us
St. Antony's Shrine, 
Parish Priest – Marambady Post,
Vedasandur TK Thadicombu Via,
Dindigul Dt – 624709.
Tamilnadu, India.